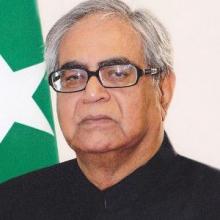 Iftekhar Arif (1936-2015) was a prominent Urdu poet and writer from Pakistan. He was widely regarded as one of the leading literary figures of his time and his work has been recognized with numerous awards and honors. Arif's poetry reflects a deep love for his homeland and its people, as well as a keen sensitivity to the struggles and challenges faced by the common person.
Iftekhar Arif was born in Lucknow, India, but moved to Pakistan after the partition in 1947. He began writing poetry at a young age and soon gained recognition for his work. His poetry is characterized by its simplicity and accessibility, as well as its emotional depth and sincerity.
Arif's poetry deals with a wide range of subjects, from love and romance to politics and social justice. He was deeply committed to the cause of social justice and used his poetry to raise awareness about issues such as poverty, oppression, and inequality. He was also a strong advocate for the rights of women and was known for his feminist views.
Throughout his life, Arif remained dedicated to the cause of Urdu literature and worked tirelessly to promote it both in Pakistan and abroad. He was instrumental in setting up the Anjuman Taraqqi-e-Urdu, an organization dedicated to the promotion of Urdu language and literature. He also served as the chairman of the Pakistan Academy of Letters, where he worked to support and encourage young writers.
Arif's legacy as a poet and writer continues to inspire generations of Urdu lovers around the world. His poetry remains a powerful reminder of the beauty and richness of the Urdu language, as well as the power of literature to create meaningful change in society.